Friendships or business? Winning or entertainment?
Those are just some of the questions for LeBron James and Stephen Curry to ponder as team captains of the NBA's revamped All-Star Game. With conference affiliations ditched in favor of a pickup-style roster selection, the on-court architects will shape the 2018 clash set to take place at the Staples Center in Los Angeles on Feb. 18.
James, the leading vote-getter overall, holds the first selection. Team LeBron and Team Stephen will choose from the other eight starters announced Thursday on TNT: Giannis Antetokounmpo, Kyrie Irving, DeMar DeRozan, Joel Embiid, James Harden, Kevin Durant, Anthony Davis and DeMarcus Cousins.
Once those players come off the board, Curry and James will divvy up the reserves, which will be unveiled Jan. 23. The actual draft will not be televised, with the league instead releasing the complete rosters Jan. 25 on TNT at 7 p.m. ET.
"It would be more fun if we had that kind of draft," commissioner Adam Silver told NBA TV. "On the other hand, I recognize that in picking a team to perform in the here and now, it's a little different than drafting. There was a sense from the players that it put them in an impossible position, where they're picking one player over another—in part, not because they necessarily think that player is better than another player, maybe because they have a personal relationship with the player."
Since the commish concedes a transparent draft is the most entertaining draft, we're here to publicly run through our mock version of what's ahead. This isn't a prediction of what will happen, but rather how we'd handle it from the captains' perspective—weighing everything from basketball fit and production to relationships, wow factors and any other pertinent components.
In the spirit of positionless playground hoops, we're drafting under the assumption that these starting lineups can be filled with any combination of backcourt and frontcourt players.
Team LeBron's First Pick: Kevin Durant, Golden State Warriors
1 of 8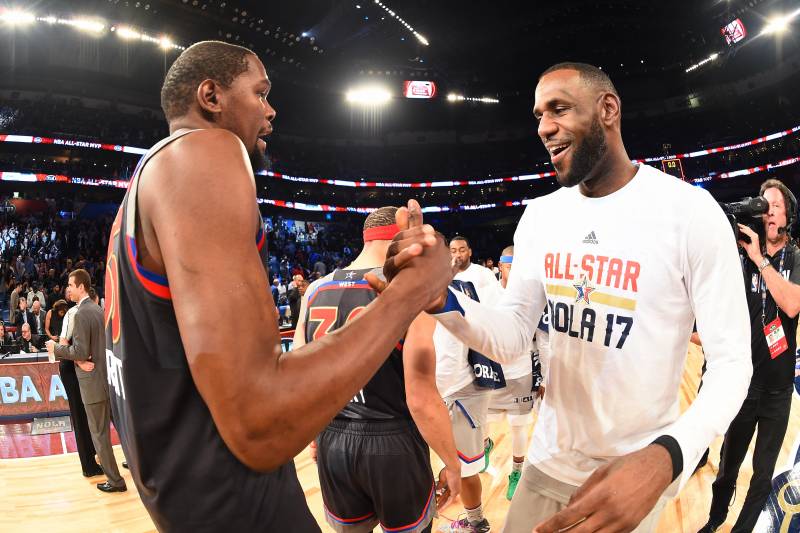 Andrew D. Bernstein/Getty Images
Gamesmanship out of the gate? No doubt.
Look, it won't be hard—or wrong—for LeBron to frame this selection as "best player available." No one comes closer to matching the 6'8″, 250-pound King's absurd size-skill combo than the 6'9″, 240-pound Kevin Durant, who also happens to have a history with James at the Olympics and in offseason training sessions.
They'd also make an unbelievable pairing inside the lines, which Golden State Warriors assistant Mike Brown—who coached James in Cleveland—laid out when trying to compare them.
"LeBron is more of a playmaker first that can score. KD is more of a scorer first that can playmake," Brown said, per Bay Area News Group's Mark Medina. "It's a little different role-wise. They both block shots, but LeBron is a little bit better in the open court. KD is better on the weak side of the floor. They both rebound really well. And I'd like to have them both on my team."
Grab Durant, and James would have two unguardable players on his roster—one pick into the process. If this format coaxes defense out of the participants, where does Team Steph even focus its effort? James and Durant are both top-10 scorers, 50-plus-percent shooters and guys with backcourt games and frontcourt builds.
But really, the sweetest part of this selection is LeBron would keep Golden State's super-friends apart. James withstood a lifetime's worth of Curry-Durant headaches last June. Signing up for another round seems like the least relaxing way to spend All-Star Weekend.
Current Lineup: LeBron James, Kevin Durant
Team Stephen's First Pick: Giannis Antetokounmpo, Milwaukee Bucks
2 of 8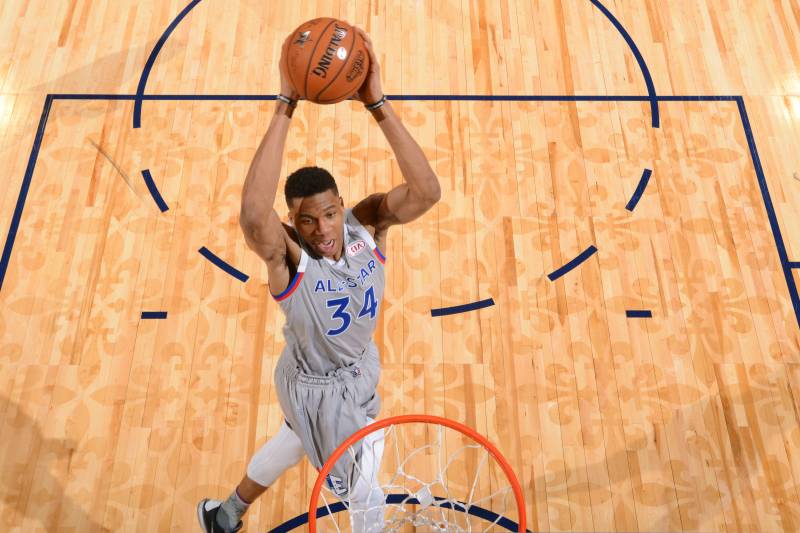 Jesse D. Garrabrant/Getty Images
No word buzzes more in modern basketball than versatility. But it carries even greater significance in a one-game setting where rotations are mashed together and players are potentially asked to step out of their comfort zones.
Luckily for Curry, his first pick, Giannis Antetokounmpo, has no comfort zone. The near-7-foot swingman is an extreme example of a Swiss army knife. This season, he's seeing 100 percent of his minutes at power forward and center. In 2015-16, he saw 99 percent of his floor time at the two backcourt spots.
Oh, and it's not hyperbolic to say he does everything. Last year, Antetokounmpo became the first player to finish among the top 20 in total points, rebounds, assists, steals and blocks. This season, he holds top-20 standings in four of the five (35th in assists).
Curry might be the NBA's best showman, so he'll appreciate Antetokounmpo's world-class aerial artwork. As an added bonus, the captain won't have to worry about ending up on the wrong side of another Antetokounmpo poster.
"He dunked on me last year. May have to get him on my team so that doesn't happen again," Curry said, per The Athletic's Anthony Slater.
This ensures Curry has a top-shelf pick-and-roll partner for the world's greatest exhibition. Like the two-time league MVP's best screeners in Oakland, Antetokounmpo can crash to the rim and explode it upon arrival or use his handles and vision to find open teammates. Every defensive strategy would feel like a lose-lose situation.
Current Lineup: Stephen Curry, Giannis Antetokounmpo
Team LeBron's Second Pick: Anthony Davis, New Orleans Pelicans
3 of 8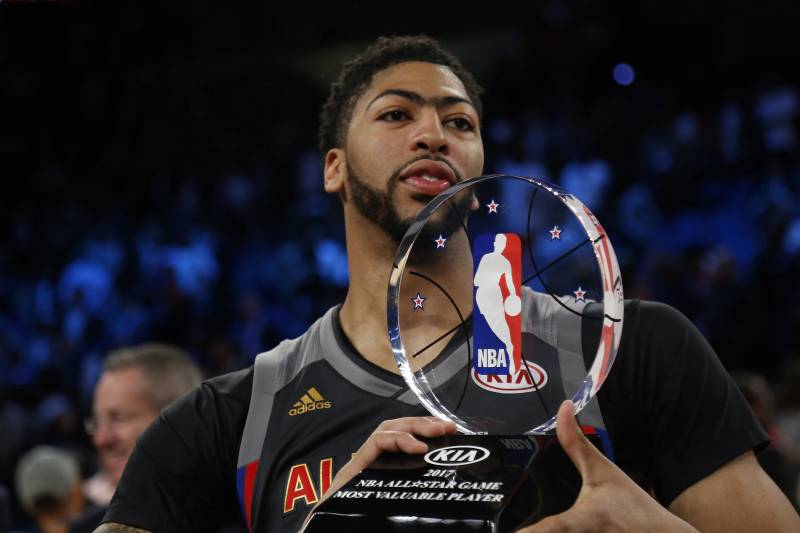 Max Becherer/Associated Press
The sound you're likely to hear is a pool of saliva forming under James once he realizes he's back on the clock with the reigning All-Star Game MVP still available.
Anthony Davis forced voters' hands last season with a record-setting 52-point performance. Oh, and he shot a blistering 66.7 percent from the field while also tallying 10 boards and a pair of thefts in just under 32 minutes.
A James-Durant-Davis frontcourt might force the folks at Webster's Dictionary to redefine the word unfair. Three selections in, and James' roster already has no offensive weakness.
Davis is a wrecking ball from everywhere. He's not only a top-five scorer, but he also owns the highest field-goal percentage among the Association's top 50 point-producers. Davis is hitting 55.7 percent of his field goals, a career-best 34.7 percent of his triples and a ridiculous 74.5 percent of his attempts within five feet (second only to James among players who take four or more per game).
And still, labeling Davis as a scorer would be foolish. He's one of only two players—along with real-life teammate DeMarcus Cousins—ranked among the top 10 in points, rebounds and blocks. Davis' 97 dunks—third overall and tops among All-Star starters, per CBS Sports—are also built perfectly for this free-flowing setting.
Also, don't discount this as some sneaky-good business strategizing by James. Davis is reportedly a long-term target of the Warriors, per The Athletic's Tim Kawakami, so James shouldn't waste this opportunity to bend the Brow's ear.
Current Lineup: LeBron James, Kevin Durant, Anthony Davis
Team Stephen's Second Pick: James Harden, Houston Rockets
4 of 8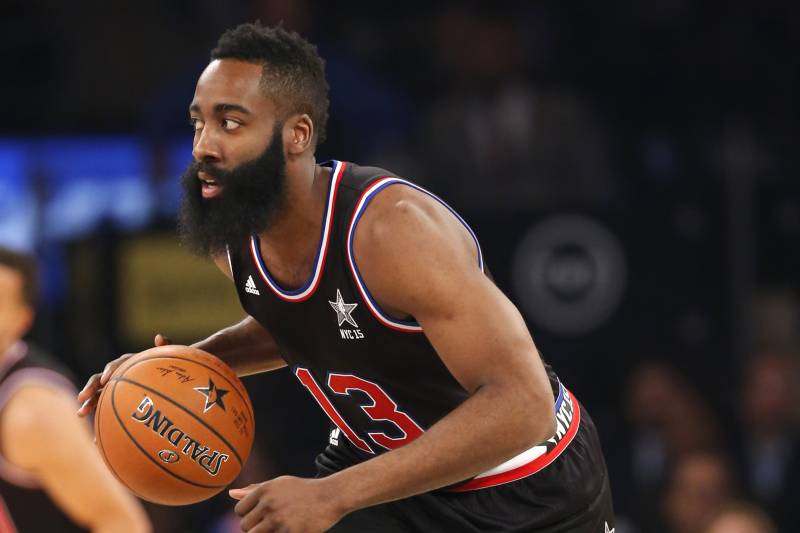 Kathy Willens/Associated Press
Three picks in the books, and the league's scoring leader is still available? Sign Team Stephen up.
James Harden is pouring in a personal-best 32.3 points this season. No one else is clearing 29 a night. And it's arguable no one else is better prepared for the All-Star style, as the Beard's Houston Rockets turn their regular contests into up-and-down, three-point-bombing affairs.
Harden has the highest usage percentage (35.9) on the team that launches the most long-distance attempts and takes the seventh-most restricted-area shots. Houston's persistent pursuit of triples and dunks might as well be the guide for current All-Star tilts.
If the ball movement stagnates amid unfamiliar faces, that won't slow Harden's production one bit. He's already accounted for 414 points out of isolation attacks, over 100 more than the next-closest one-on-one finisher, LeBron.
But if the ball skips around—it should with three crafty creators already in tow—it might enjoy spacing that even Golden State would envy. No, Harden isn't a super-stroker like Klay Thompson, but Harden is an elite sniper nonetheless. He's tied with Curry atop the average triple list (4.1 per game) and matching his previous best with a 39.0 percent conversion rate.
Add handles and distributing to the equation, and Curry suddenly has a second lead guard who can score in bunches, shred nets from anywhere, stripe pull-up threes and break down defenders off the bounce. The point potential of a Curry-Harden duo is already making calculators sweat.
Current Lineup: Stephen Curry, James Harden, Giannis Antetokounmpo
Team LeBron's Third Pick: DeMarcus Cousins, New Orleans Pelicans
5 of 8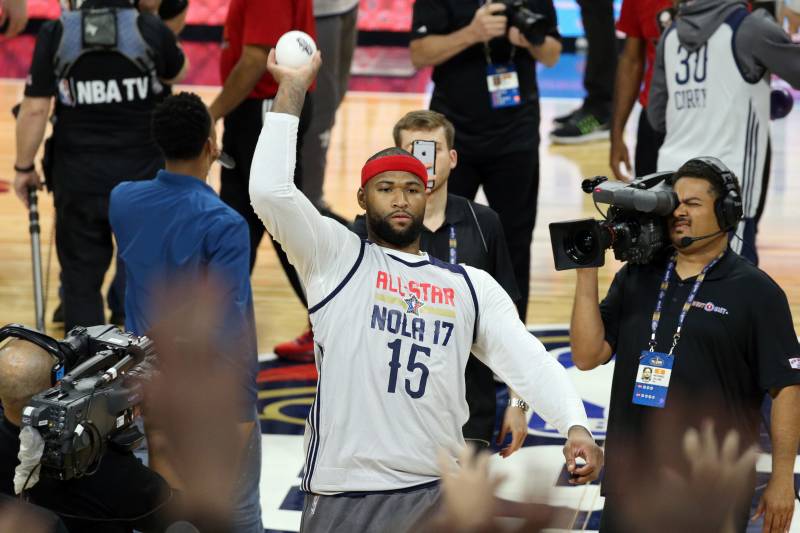 Gary Dineen/Getty Images
Is this selection spurred by a subconscious desire to see Davis and DeMarcus Cousins surrounded by a stacked supporting cast? It's possible.
But what this pick really does is continue Team LeBron's collection of super-sized skill players. Add Cousins to the fold, and you have three guys standing near or above 7 feet, plus a 6'8″, 250-pound basketball-playing linebacker.
Feel free to shudder at the thought.
Plus, this reflects Cousins' quickly climbing stature. Boogie is engineering a year for the ages. Focus only on his clearing 25 points, 12 rebounds and five assists, and he's just the sixth player above those marks. Add in his 1.5 blocks or 1.5 steals, and he's just the second to do either. He's also the first to do both and the first to pair a 25/12/5 line with two threes per outing.
"There are few things in professional basketball as terrifying as the sight of Cousins staring down the line with nothing but imminent destruction in his path," Nathaniel Friedman wrote for GQ. "That he's just as likely to pull up for a feathery three or dash off a quick move on the drive only compounds things for defenders. And if Cousins gets anywhere near the basket, he's got the kind of touch that virtually guarantees two points."
Since stuffing the frontcourt is within our rules, James is the first to break the traditional mold. That he can do so while fielding a four-man roster of bigs who can play like smalls only increases the Curry's difficulty.
Current Lineup: LeBron James, Kevin Durant, Anthony Davis, DeMarcus Cousins
Team Stephen's Third Pick: Joel Embiid, Philadelphia 76ers
6 of 8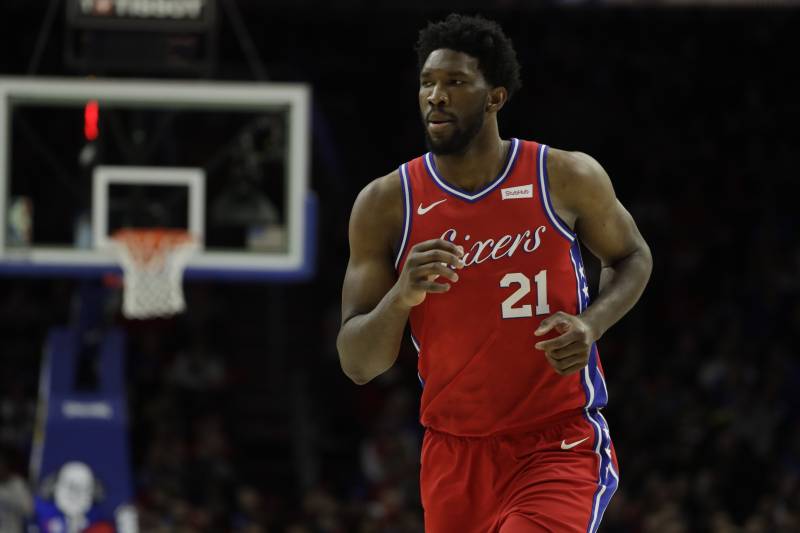 Matt Slocum/Associated Press
We'll get to the basketball analysis in a bit, but let's start with the important stuff—how sick is this nickname collection? For those who aren't keeping a running tab, we now have the Human Torch, the Greek Freak, the Beard and the Process on the same squad.
If that's not a band of basketball superheroes, I don't know what is.
Getting back on track, Joel Embiid—the lone first-time All-Star here—might feel like a reactionary selection to Team LeBron's run on bigs. And to some degree, it is. For everything Antetokounmpo can do, you don't want to task him with stopping both Davis and Cousins. Embiid, who packs 250 pounds on his 7-foot frame, is built for the challenge.
He's also the stingiest interior defender among the 10 starters. While Davis and Durant both better him in blocks, Embiid comfortably leads this field with a minuscule 50.8 field-goal percentage allowed the rim—second among all high-volume defenders. His 3.25 defensive real plus-minus also ranks sixth overall and paces all players averaging 30-plus minutes, per ESPN.com.
Granted, defense isn't exactly first priority for this bout, but that's fine. Embiid shines from every angle. His per-36-minute marks seem like they belong in the virtual realm—27.3 points, 12.6 rebounds, 4.0 assists and 2.2 blocks. Only Kareem Abdul-Jabbar and Bob McAdoo have ever amassed a 27/12/4/2 line. Those players also didn't take a triple in any of those campaigns; Embiid has made 28 through 32 outings.
Lastly, by grabbing Embiid, Curry puts James back on the clock with only two guards and one Kyrie Irving remaining. Time to cue the Michael Jackson eating popcorn GIF.
Current Lineup: Stephen Curry, James Harden, Giannis Antetokounmpo, Joel Embiid
Team LeBron's Fourth Pick: DeMar DeRozan, Toronto Raptors
7 of 8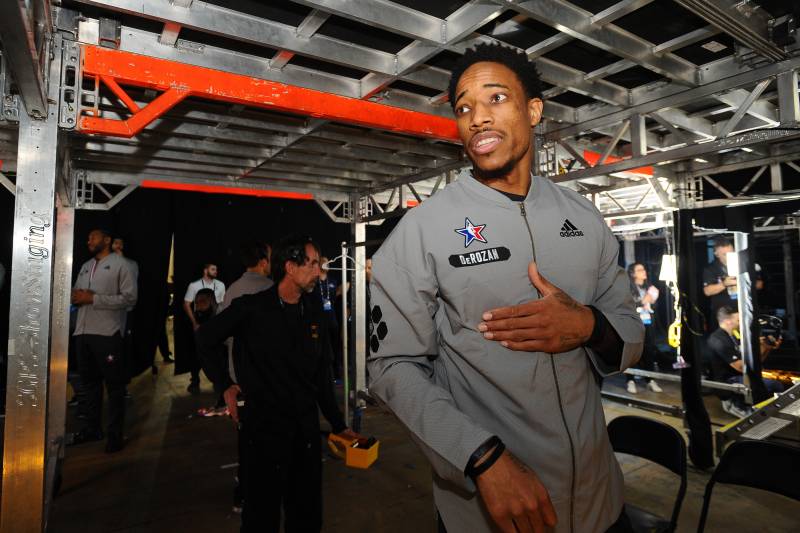 Juan Ocampo/Getty Images
Some might say the ultimate troll move would be for James to snatch up Kyrie Irving, the player who demanded his way out of Northeast Ohio last summer.
But wouldn't this twist the knife even more? We'd all have to hear about it, of course, but couldn't you see some anonymous source revealing James bypassed Irving and made him the last pick?
Conspiracy theories aside, DeMar DeRozan makes the most sense (provided Team LeBron feels sufficiently stocked with shooters). DeRozan is averaging more points, posting just as many assists, committing fewer turnovers and shooting a better percentage from the field. Irving has four outings with 35-plus points; DeRozan has seven.
The Toronto Raptors' leading scorer also isn't allergic to three-pointers anymore. He's not only taking and making them at career rates, but he's also connecting on 35.0 percent of those looks—a personal best and nearly seven points better than he shot his first eight seasons (28.1).
"I wanted to simplify the game and make it easier on me to be a complete player," DeRozan said, per Jeff Zillgitt of USA Today. "Seeing the way the league was shifting, seeing what I was good at and seeing what I could be better at. I was just trying to put all that together and master a new craft."
Even without the long ball, DeRozan was roasting one-on-one defenders. So, you can imagine how he'd treat them now that he has it and, in our hypothetical contest, serves as the fifth option behind four top-six scorers.
Starting Lineup: LeBron James, DeMar DeRozan, Kevin Durant, Anthony Davis, DeMarcus Cousins
Team Stephen's Fourth Pick: Kyrie Irving, Boston Celtics
8 of 8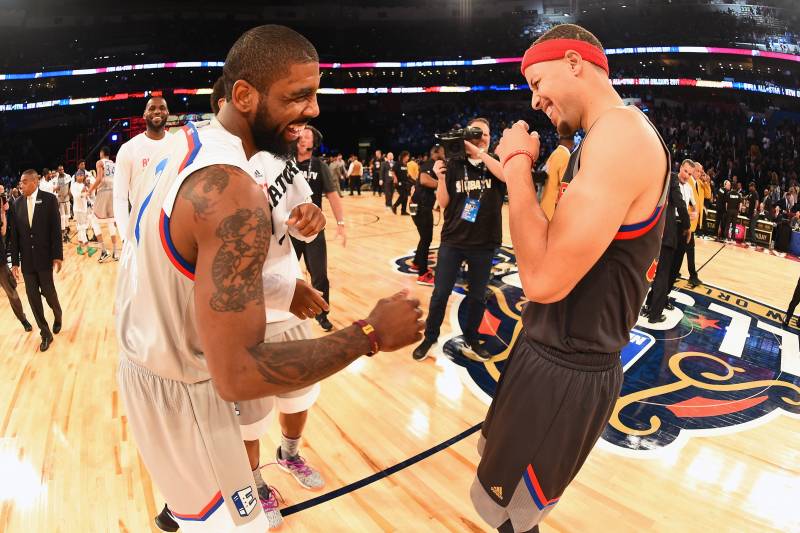 Andrew D. Bernstein/Getty Images
Without needing to know the inner-workings of the Irving-James relationship, this selection seems like it would make everyone happy. Irving and James would avoid the constant stream of questioning about playing together again. And Curry would add yet another lethal live-ball scoring threat.
Irving's aesthetically pleasing game plays masterfully on the All-Star stage. If he isn't vying for the game's highest individual honor—which he collected with 31 points and 14 assists in 2014—he's at least good for dazzling dribbling displays and deep-distance splashes.
The pressure put forth by a Curry-Irving-Harden trio would be staggering. Each ranks among the league's dozen best pull-up scorers, and they collectively average 6.3 pull-up triples per game. They're all substantial gravitational pulls on defenders, and crowding any one would mean exposing yourself to two other 39-plus-percent three-point shooters (plus the frontcourt high-flyers).
Even though Irving sacrificed the benefits of playing with James, Irving has found new levels of effectiveness. His player efficiency rating and true shooting percentage have never been higher, and he has resisted the temptation to dramatically increase his usage with the youthful Boston Celtics.
In other words, don't be fooled by Irving's placement as our final pick. The player pool is full of deserving All-Star starters, and someone's name had to be the last called. Trust us, Curry would be ecstatic having his former Finals foe round out his starting five.
Starting Lineup: Stephen Curry, Kyrie Irving, James Harden, Giannis Antetokounmpo, Joel Embiid